The importance of blackboard lighting lighting design
Time:2022-03-28  Click
The lighting of the school classroom takes visual health and comfort as the key consideration. Good lighting environment can make students have a good psychological feeling, so as to stimulate students' learning enthusiasm, improve the efficiency of visual work, students in the classroom learning activities, almost all of the close gaze, in order to adapt to the classroom environment, human visual organs adjust themselves, so that the eye muscle is too tense. The illume environment that protects an eye lamps and lanterns builds can avoid the disease on visual organ, prevent visual disease, prevent myopia effectively.
Why is classroom lighting and blackboard lighting line design important in classroom lighting?

(1) Classroom lighting design classroom lamps mainly include two parts: classroom lamp and blackboard lamp, classroom lamp mainly refers to the main lighting in the whole classroom, its illumination and light cover the whole table and classroom; The other is the blackboard lamp, which is mainly used to illuminate the words and exercises on the blackboard. The installation and lighting design of classroom lamps are related to the size of the classroom and the layout of lamps. If the design is not good, even if the brightness of the lamps and lanterns will be with the actual effect and expectations of a larger gap, not up to the standard. In addition, even if the blackboard lamp has a very good luminous Angle, because of improper installation will lead to visual fatigue, even can not see the blackboard clearly.

(2) Before the installation of classroom lamps, first of all through light simulation, and then according to the actual experience of installation, in order to achieve a healthy classroom lighting environment.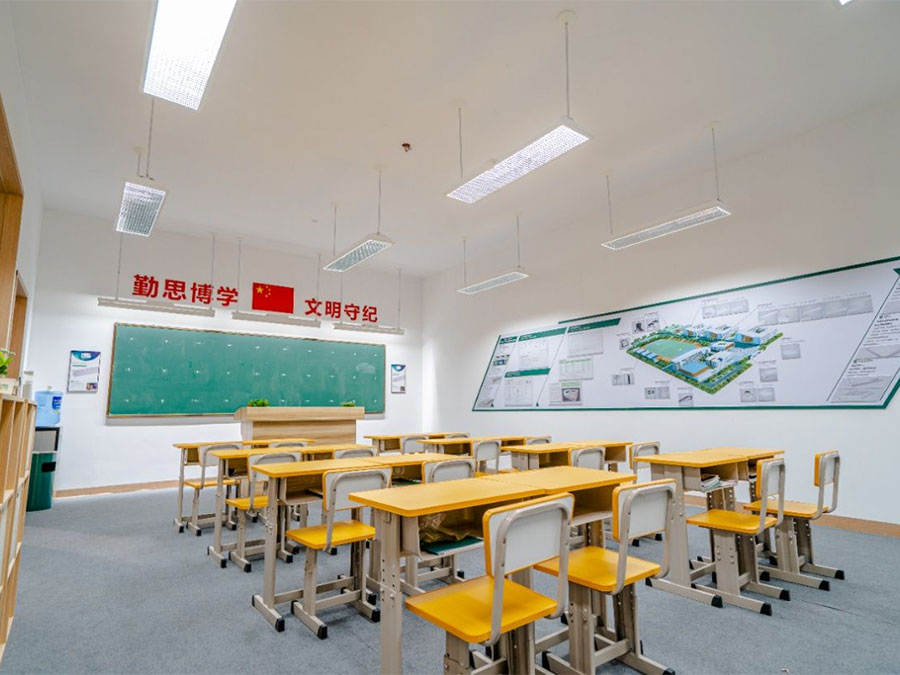 At present the market numerous eye protection lamp brand emerges in endlessly, the quality is also the good and the bad are intermingled, so in the choice of eye protection lamp, we should choose to accord with the standard, the eye protection lamps and lanterns with quality assurance.

Guangdong Erman Lighting Co., LTD., founded in 2009, is located in high-tech Zone of Jiangmen City, Guangdong Province. It is a national high-tech enterprise specializing in R&D, production and sales of LED educational lighting.

Erman Education Lighting adheres to the principle of one-stop service, assisting customers to implement campus lighting solutions from many aspects such as project field investigation, renovation plan formulation, construction technical guidance and so on.

In the future, Erman will increase its marketing efforts, create educational lighting products with core technologies, and become an excellent solution provider and ultimate product manufacturer in the field of educational lighting.